by Nathan Stout (of AccordingToWhim.com)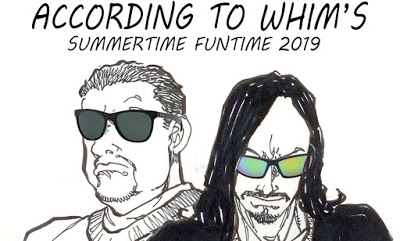 Taking a step back from the summer time memories for a moment I wanted to make this seemingly random blog post about the tropes of summer.
I may 'leverage' the word trope alot here in the Summertime Funtime blog series but it's important to the spirit of Summer. With that, here is a series of pictures and phrases, words, and sounds of Summer:
Creosote smell (from asphalt and/or railroad ties). This reminds me of Six Flags over Texas.
Cicadas
Lightning bugs.
Mosquitoes
Lakes
Beaches (and all that goes with it).
Family Vacations
Car Bingo
Suntan Lotion
Off (bug spray)
Lawn Chairs
Swimming pools (and all that goes with it)
Watermelon
Grilling
Any song with the word Summer in it.
Visiting any Southern Coastal City.
Water parks and Amusement parks.
************* ADDED **************************************************
Bug Spray smell
Tiki Torches and their smell
Citronella smell