by Nathan Stout (of AccordingToWhim.com)
My wife and I wanted to go to Arlington to visit a bunch of thrift stores and use our Six Flags season passes again so we made plans for this last Sunday (Feb 23rd).
Six Flags is now open year-round (at least on the weekends) and the response has been what you would expect. People aren't aware yet so the crowds have been extremely light. I hope this decision doesn't bite them in the but.
The day was dreary but the temperature wasn't too bad. I was hovering just at about 60. It was drizzling a little all day and by the time we left it was sprinkling.
We were greeted by an empty park… almost literally.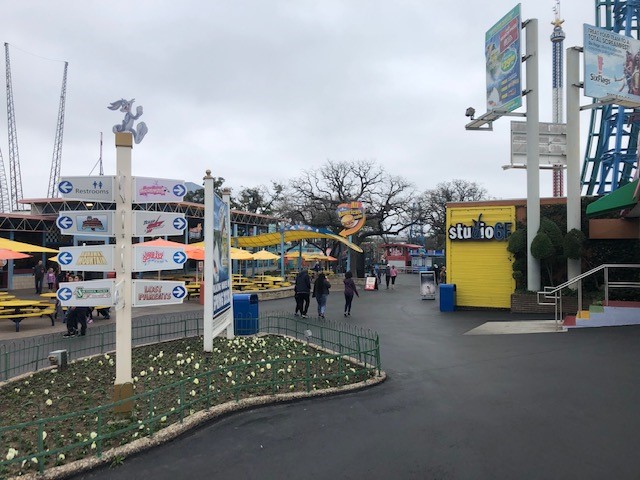 This shot is 2 hours after the park was open.
After some suggestions were made off the Six Flags Current Happenings FaceBook page, we headed to Oliver's Tavern for CheeseSteak/Tots and a Drink ($14.03 on the Meal Plan).



We walked around the park, inspecting the condition of existing buildings and looking for signs of classic attractions, etc. The Southern Palace is in particualr bad shape. It needs a good sandblasting and repainting. There's not much you can do about the cracked stairs and other concrete issues but you can paint. Come on guys!
I will say the most 'original' area of the park is the France section just outside the Southern Palace that connects to the Looney Tunes Mall: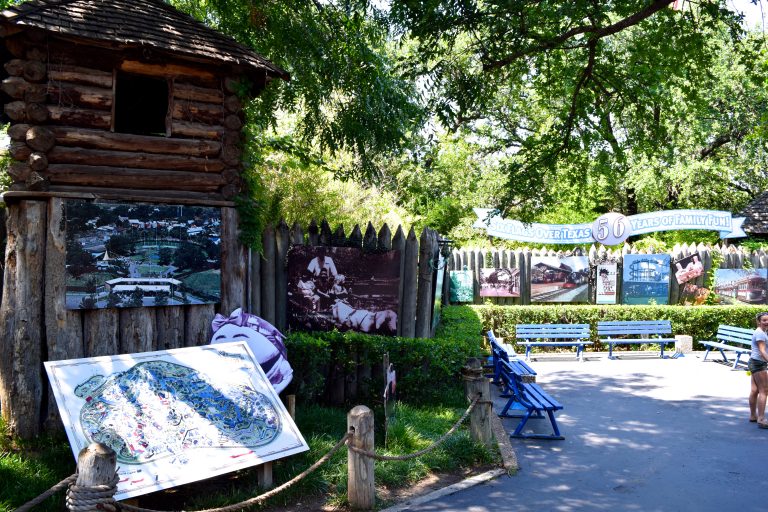 This pic of that section is from Kingdom's website.
There is even accordion music playing some very French music. It is really a charming part park. It has a very Disney vibe to it. I'm sure they will pave over it to put a cheap something there… 🙁
Another remnant of the old park in Texas is the location where the Shooting Gallery was located. Here is a picture:
So sad. This rough-unfinished 'arcade' is really sad looking. They couldn't even theme or paint it.
After our food settled a bit we rode the Giant and the Titan. This is the first time I have rode the new Giant. It was SPECTACULAR! I was super impressed. I mean really IMPRESSED. This is a world class ride!
After those 2 rides we decided to pack it in for the day. Just a quick trip. Looking back, I wish we would have stayed since the lines were so short. I should have taken the opportunity to ride all those newer rides I never got to. Oh well.
On the way out we had a Funnel cake ($10.81 on the meal plan).
Totals for today:
2 admissions 42.50 pic a day comparison = 85.00
1 meal 14.03
1 snack 10.81