by Nathan Stout (of AccordingToWhim.com)
On October 1st Chris and I (with unexpected guest Miguel) went to Fort Worth's charity-driven haunt: Hangman's House of Horrors. It's located on I-30 and Forrest Park Blvd in West Fort Worth.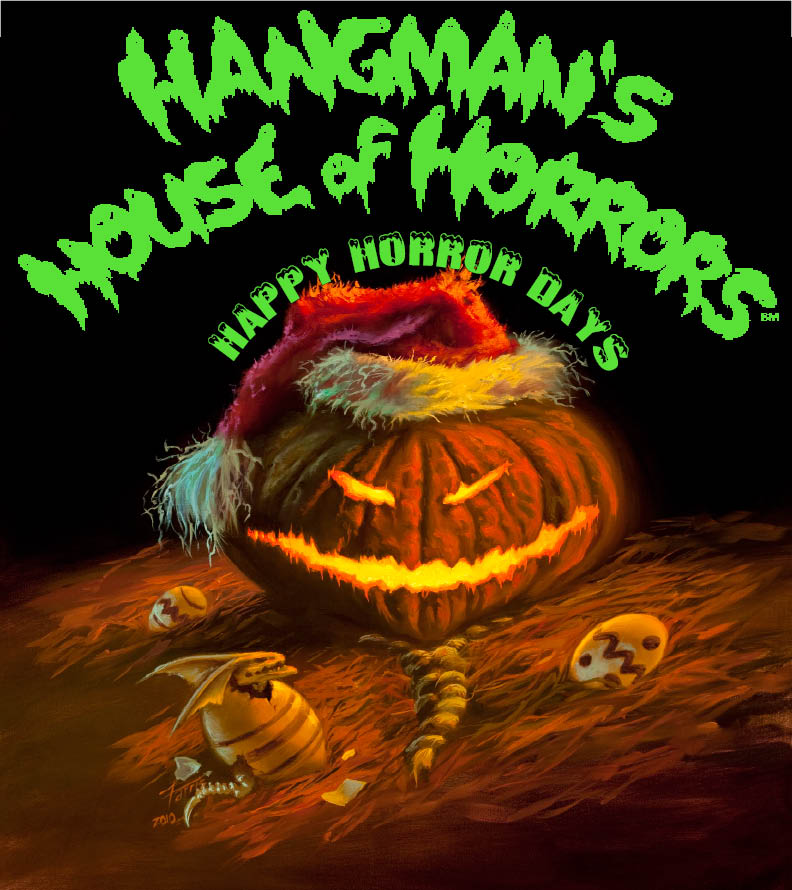 About a week and a half (or so) earlier I email Hangman's to ask for an interview for the show. I figured with the new 'secret project' approaching as well as the 2010 Halloween Episode that some new material would be cool. This would give us some footage as well as some promotion for the haunted house.
On the 1st Chris showed up at my place and we played a few games of NetRunner before heading out. Miguel was a 'maybe' (isn't he always?) so we headed out at about 8:45.
When we got there we found Miguel hot on our heels. Apparently the idea of shooting something not confined to a sketch interested him.
In our conversation the Marketing and Promotion Chair: Darla Robinson told me to come on out and she do an interview and we could shoot some footage of the attraction. I prepared some questions for her to answer (of which you will see in the video I will link to later in this post). When we arrived we did some filming of the outside of the location. When Darla arrived she greeted us happily and told us she was also having someone from Dark Sky Films out that night to promote Hatchet 2. She wanted to bring us inside and even send us through the main haunted house. There are several on the property:
Hangaman's (40 minutes)
The Swinery (10-15 minutes)
3-D Wonderland (10-15 minutes)
Obscurities (15 minutes)
We went into the 'park' and got some shots of various locations then Darla introduced us to Katie Stout (strangely enough no relation). She was the person hired by Dark Sky to promote Hatchet 2. Darla then got us up to the front of the main house's line and we all decided that I should go in with a group of girls (for some good screaming reaction shots) and Chris and Miguel would go together (each also with a camera). I didn't use the Canon XL2 because it doesn't have 'night vision'. I used the older Samsung camera you have read about here and Chris used the Sony and Miguel used his camera.
The theme of Hangman's this year is 'Happy Horror Days'. They take the holidays and twist them into nightmarish scenarios. Hangman's is 20,000 square feet and takes about forty minutes to navigate it. I must admit that I was a little 'disconnected' from the action since I was focusing on getting good shots so the frights weren't as potent for me. I tried by best to follow the group of girls but often got lost (which was how it is designed) and sometimes had to turn the screen reverse to shed some light so I could see which way to go. On at least three occasions I was warned to turn off the camera or I might get kicked out. Once I told them what we were doing I got some apologies and I moved along.
The scenes were well done and actors really interact with the patrons. Darla says in the interview that the house's layout is changed every year to offer something different but I don't see many people being able to tell (unless you went like every day each year). They could probably leave it and do changes every other year and no one would be the wiser. There are also 2 rolling tunnels in the house. These are the long tunnels where you walk across a bridge and the round wall turns. Your eyes make your body feel like you are moving but you aren't. It is very disorienting (unless you look at the horizon) and really neat optical illusion. It amazes me how our mind will interpret what it sees and will actually force your body to react a certain way. Once you exit the main house (though a chainsaw wielding red neck x-mas tree shop) you are in front of the Swinery where your frights can continue.
After touring the main haunted house I got some more shots of activities in the park. There is quite a bit going on besides the haunted houses:
Laser tag
Live bands
DJ with Karoke
Novelty photos and props you can buy
Bungee jumping (at certain times during the season)
There are more and change each year. You can pay for each haunted house you want to go into or pay for the full package and go into all the houses. You can also pay a little more and get a 'fast pass' so you can jump way ahead of the long lines. I am guessing this will be really useful during the peak days of the season.
After getting the final bits of footage we all trooped up to the front of building (which used to be an old auto parts warehouse) and we set up lights and cameras for the interview. We interviewed Darla and two others (which will soon be on our site). We wanted to get Darla's interview up as soon as possible for the promotion value to Hangman's early in the season.
Hangman's House of Horrors donates it's net proceeds to local Tarrant County Charities and that spirit of volunteerism shows in everyone we encountered on the property. A great time was had by all and we really appreciate all the kind help we had from Darla.
Click here to check out the video we made on YouTube.
Go check them out. Click here for the website where you can find their operating hours and more information.