By Chris McGinty (According To
Whim.com)

In the interest of cohesion and
content generation, Nathan and I discussed something of a format for the
According To Whim blog recently. It is According To Whim, so we can always go
off-format, and we have an open-topic day on Wednesday, but for the most part we
wanted to focus on a couple of main topics for a while. One of those topics is
interviews with creative people about who they are and what they do. I titled
this in a way that sounds like the focus is on bands, but it was just to
streamline the name. We're interested in all forms of art and creative work.
Below is an example list, but not all inclusive. Please note that we were
testing the waters with the interviews, so what we have to present right now is
simply text interviews. We'll probably request pictures in the future to make
the interviews look better.
Game Designers – Nathan and I are
both pretty focused on game design right now, obviously. We're part of the
Board Game Geek forums right now, and are interested in talking to other
designers.
Crowd Funding Projects – We're
also interested in anyone currently fighting the uphill battle on Kickstarter
or Indiegogo.
Artists – We've talked to a few
artists out at Comicon while developing our Kickstarter for our board game,
Rise of the Rock Star
. We enlisted Jason Chalker to do the art for the game,
but we also grabbed an interview with Ben Dunn.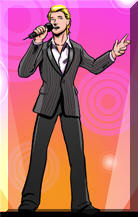 The artwork of Jason Chalker
Photographers – Particularly interested
in artistic photography, but if you can provide an interesting interview,
contact us.
Writers – This includes book
authors as well as other blogs. In fact, if you have a blog, and you'd like to
interview us as well, we'd be happy to do so.
Podcatsers – Again, we'd like to interview you about your podcast, and if you'd like to interview us, we like to talk.
Musicians/Bands – I've always
intended to focus some of my time and writing for the blog on music that I
enjoy. For that reason, I'm devoting my blog post on Tuesday to music. I listen
to a lot of underground, and/or local, and/or unsigned music, and so I would
like the focus to be mostly on the good stuff I've found over the years, and
continue to find now. I know a lot of bands locally, so I will be using the
names Fort Worth
and Dallas a lot, but it's not a local blog, so bands from anywhere are welcome.