As I explained in the first part of this examination of Duran Duran's summer themed music, when Nathan and I set
out to do the summer theme for the blog we knew we'd need to do some summer
themed music. I started with the three Duran Duran songs with "summer" in the title. Now
I'm going to do three songs that use the word summer in the lyrics without it
in the title, which I'm calling "summerable mentions," and one that hints at
summer in the lyrics. I'll do one more post after this where I'll do two more
summerable mentions and one more that is on the summer fringe.
Duran Duran – Of Crime and
Passion
From Duran Duran's third studio
album "Seven and the Ragged Tiger" this song does a great job of living up to
its title. Everything about it screams of forbidden love and lover's scorn.
With the line "Summer of madness or the undertow" we get a summerable mention.
One day I will write a blog post
idea I've had for a while about what I feel are Andy Taylor's greatest guitar
contributions to Duran Duran's songs. This is definitely on that list.
I told a couple of personal
stories relating to these song in the first post, so I'll take the time to tell
another now. In eighth grade, which would be the 1986-'87 school year, I was in
a class called Theater Arts. My teacher, Mrs. Green, was my Speech class
teacher the year before, and she seemed to appreciate my creativity, but I
guess she didn't think I could act because I was never put in a play.
As a class assignment though, we
had to do a pantomimed story done to the song of our choice. Because the guitar
solo of "Of Crime and Passion" sounded like a police siren, I decided to do a
story where the character does some Indiana Jones stuff to steal something,
escapes the cave, but is pursued by car. Mrs. Green was pleased with my performance.
She told me that it was the performance that was the easiest for her to follow
the storyline. She asked me to perform it for another one of her classes, which
I did. Just for the record, the students in neither class were all that
impressed. I got polite applause at best.
Duran Duran – So Misled
From Duran Duran's fourth studio
album, "Notorious." "So Misled" contains the line, "In the summer of the London
life." If I made a disc of the Duran Duran songs that are my personal least
favourites, it would still be an amazingly good disc. That's how good Duran
Duran is. It took me a long time to get into this song.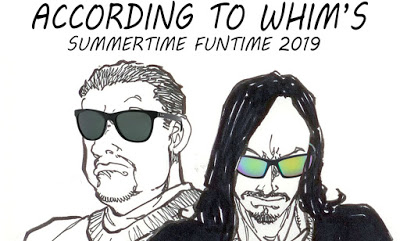 What has two pair of sunglasses and would still show up to a Duran Duran show of just their least favourite Duran Duran songs?
This brings up an interesting
question about those B-sides that are so good that you wonder why they weren't
on the album. While it's nice to get your money's worth when you buy a single
with a previously unreleased track, I find it a little sad that so many people
who bought the "Notorious" album heard "So Misled," but were denied "We Need
You," which was the B-side to "Skin Trade."
You see, "Skin Trade" did well,
but nowhere as well as the "Notorious" single which only had an album track for
a B-Side. While "Winter Marches On" is possibly the strongest of the tracks
overall on "Notorious," it meant that "We Need You" was relegated to the lower
performing single. Neither of these tracks fit the summer theme, or I would
embed them, but I do recommend them if you've not heard them.
Duran Duran – Liberty
This is the title track to Duran
Duran's sixth studio album, "Liberty," which is also my second favourite of
their albums.
I don't really have much to say
about this song. It's simply a good song that mentions summer and then
contrasts it with the month of December. "Do you remember, How lovers ripe on
summer's heathen night, Would never seem to end? And does December, Come
stirring with that finger of desire, To feel it once again?"
Duran Duran – The Wild Boys
This song was the only studio
track on Duran Duran's live album "Arena." This song is on the summer fringe
just because of the line "In August moon surrender to a dust cloud on the
rise." I know, it's a stretch.
This song should have got me
interested in William S. Burroughs long ago, but it took an episode of "Luther"
and 80s new wave group "Skeletal Family" to finally get me there. The title
comes from a novel by Burroughs called "The Wild Boys," and the reason they
wrote the song was to give Russell Mulcahy the chance to create a visual proof
of concept for his desired movie adaptation of the novel.
One very odd misconception that
has sprung up around the video for "The Wild Boys" is that it was banned for
homosexual overtones. The song that was banned in the UK was "Relax" by Frankie
Goes to Hollywood. I'm not sure where the mixing up of the songs in the tale
came from. Interestingly, when Duran Duran performed at Verizon Theater in Grand Prairie, Texas touring "All You Need Is Now", they did a version of "The Wild Boys" where they added
elements of "Relax" to the middle of the song.
The Wild Boys/Relax (couldn't find a good copy from the Dallas show)
As I said, I have one more post
I'm going to do with this. I'll link it here when I post it.
Chris McGinty is a blogger who is
pretty comfortable with his sexuality, and is very open to people living the
pleasures of life that they personally enjoy. Even so, he really doesn't want
to watch the original video for "Relax" again if he doesn't have to.