by Nathan Stout (of AccordingToWhim.com)
Thanks for stopping by, this, our official announcement of the beginning of According To Whim's 60 day Kickstarter Project!
HUH?
According To Whim (our little band of merry-making fools) have developed a board game. We want it made and we ask that YOU help us by backing our Kickstarter Project.
WHEN?
Right now! Our Kickstarter has begun (on this Friday, May 17th, 2013). It will run until July 17th, 2013 (60 days).
WHY?
We have a great product that we feel is fun and we want to get it produced. Not having the means to do it ourselves, we come to you to ask for your backing so we can get it made.
WHAT IS IT?
Rise Of The Rock Star is the name of our board game. The object of which is to make your way from being an Unknown to being a Rock and Roll LEGEND!
We realize you have many demands on your time and money but was respectfully ask you to consider backing our project. In return you can pick up your copy of the game when we get it released.
The game is in its final days of development. We are down to tweaking a few cards and art work to get it running (and looking) the best we can. We just about have everything ready to roll out to the printers.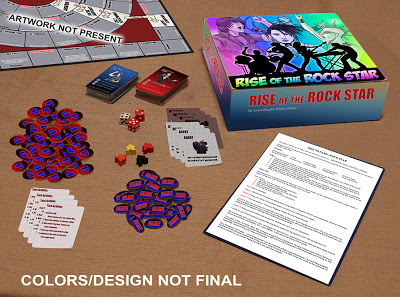 Our target date for shipping (if the project is successfully funded) is March of 2014.
There will be several ways you can follow the progress of this project. Some are lite and some are hard core, so pick your poison:
We will be posting to this blog each day.

We will be posting to Twitter daily as to the progress of the project and the game itself.

We will be posting to our Facebook page every 3 days (not so heavy duty content).

We will updating through Kickstarter only for important updates.
We will also have some Podcasts and Vlogs to entertain you with while the project continues. Once the 60 days is up (if successfully funded) we have two weeks to collect funds from you guys (through Amazon Payments… so easy). Once we have the money we are placing the order with our overseas manufacturer and paying our starving artist to finish what he has already begun (so excellently I might add).
The whole manufacturing process takes somewhere around 3 months and we are estimating another month for shipping, etc… so we set March as goal with PLENTY of room for delays just incase. Hopefully we will have it a lot sooner.
Again, please help us make this game by backing our Kickstarter. You can give as little as $1 and there are some great rewards for higher donations. You will be able to buy the game after the successful Kickstarter but it will be for a much higher amount, so PLEASE help us out! Yahoooo!