by Nathan Stout (of AccordingToWhim.com)
Today we are taking a break from our 60 days of Kickstarter (all about our Kickstarter game: Rise of the Rock Star) to sit down for a few and find out a little bit about Chris Park. You will notice that Chris is a million years apart from the theme of our game but in a way he is a Rock Star to many people around the world.
I discovered Chris on a BBC TV show several years back and tracked him him down (not an easy thing and you will see) for an interview for our Blog (apart of the Friday Interview Series).
Thanks for taking the time and finding a PC to get this interview done on. I suspect you don't come into contact with them often… Can you describe, best you can, who you are and what you do so people who do not know you can get a feel for your unique existence
?
My name is Chris Park, born in Henley on Thames, UK. in 1973. My ancestry is Welsh, English and Scottish, my home is in Oxfordshire, I live in a straw bale self build on an organic farm. My work is creative, therapeutic and educational involving ancient technologies, timeless stories, contemporary re-connections to natural materials and traditional crafts, folk music and arts, skep beekeeping and natural spirituality.
I originally trained as an artist/sculptor… Then studied contemporary religion, archaeology and music. Always learning.
I am a Druid of the Order of Bards, Ovates and Druids and have trained in other forms of native British wisdom traditions.
I grow some food, practice and teach skep beekeeping and make much Metheglin (like getafix's potion)…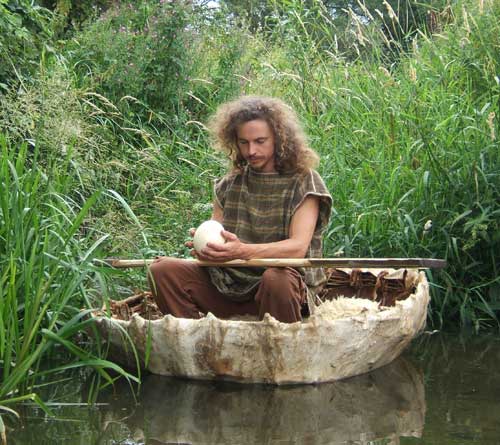 I am the same age as you Chris and we couldn't be more apart in our cultural existance and I find that facinating. In 2001 you took part in a BBC "experiment" about Iron Age living. How did you find out about it?
Aha, yes. 'Surviving The Iron Age' ( U.K. title) was televised here in 2001, and filmed in Wales from September to November 2000… earlier that year I was at a Druid Camp called 'Lughnasa Camp', named after the Celtic festival of first harvest. Professor Ronald Hutton, an order member and regular speaker at the camps, announced the intentions of the B.B.C. and handed out some details. After the camp I got in touch and they took my details. Then later on a friend, Ana, asked if I'd like to apply together as a 'family unit' with her and her daughter. So I did that too.
We were rejected… But at the eleventh hour they roped me as an 'expert' on Iron Age religious practices, plus some knowledge of herbs and herbalism.
Most tragically and awfully I later learned that the young daughter of a family who had originally been accepted was killed, I think in a car accident, or hit by a car. So under sad circumstances the B.B.C. needed some more volunteers.
The location for the project was 'Castell Henllys' an iron age hill fort, or holy hill, close to Carn Ingli. The roundhouses there had been reconstructed according to the original post holes and hearth fires. We were given woollen and linen clothes to wear, and all I took in from the 21st century was a mead horn.
I learnt many things, experienced much depth of being with the elements, the weather, community, livestock and nature, crafts and myself. At the end of the project (nearly 7 weeks) I was so settled in that I didn't want to leave! I had Welsh ancestors nearby and the spirits of the place kept me strong. We made iron, we made ceremony, we made wonderful and terrible food, we made mischief and merry, we made crafts, conflicts and frustration, we made songs, sacrifices and soap, we made love and laughter, we made fools of ourselves and sovereigns of our souls. The B.B.C made an insensitively sensational, highly entertaining, beautifully crafted with artistic license, celebratory documentary of the little footage they took of our lengthy experiences there.
That is the show where I first discovered who you were and I did get the feeling that out of everyone there, you were most at home and were least wanting to leave. By far I found you the most interesting person on the show and wondered how it would have been if everyone in the group had been on similar footing as you (knowledge-wise). The website where I found your email was Acorn Education, is that your endeavor? Is it your "full-time" job?
Yes it is. It began as my way of sharing some of what I learnt from the Iron Age experience with the world. Today's western lifestyle is highly mechanised. To reconnect with natural materials, natural rhythms, our own nature and a deep connection and a deeper peace is a universal yearning. So to craft a career out of marrying culture and nature, creatively and educationally has been very fulfilling. I'm self employed, I never know what work is around the corner, but something usually turns up to keep the wolf from the door! Touch wood! Sometimes sculpture, other days storytelling, sometimes Druidic work, other days school projects, one week mental health projects, another music, then arts and architecture, perpetually beekeeping etc etc…



What are your plans for the future?
I am currently setting up the British Beekeeping Heritage Society. Beekeeping history and heritage is under-represented in this country, once known as 'the Isle of Honey'. Many countries have at least one beekeeping museum, we have none! There is work to be done. The skep apiary here is expanding here also… Log hives and experimental skep arrangements. There is more Metheglin to make. Its a herbal mead… The root of the word 'medicine'. We are also constructing a forge as a focus for a men's group. I feel like recording an album of music and songs… Perhaps write a book, which is a big deal for me as I consider the world to have too many books already, too much time is spent engaging with text! Less text more telling! Less mechanism more organism! Less abstraction more traction! Whenever we are absorbed in a computer/phone/movie/device/book, there is usually a loved one or pet or friend close by who would so much love to be enjoying eye contact, simple human organism, acknowledgement, engagement, play, togetherness. Then there's a world out there! Scary, but worth it! Most good books were written by someone who has remembered how to live and read by those who need reminding… The rest is just storytelling… Which is far richer from a teller, and we can all be storytellers. Text gets stuck, stories evolve… A bardic tradition contains a dynamic equilibrium between the stories that emerge from it and the spirit of the time it is perpetuated within.
Yours with love and laughter an eagerness to disengage from this machine!
Chris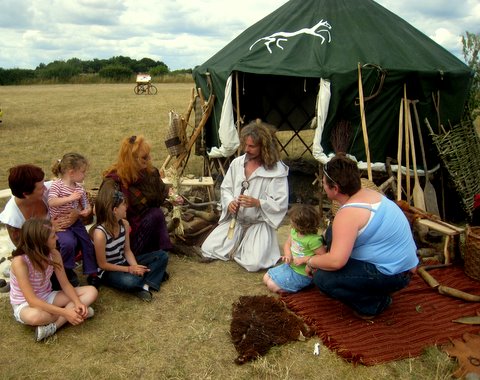 Thanks so much to Chris for this fantastic interview. I have interviewed musicians, international stars, and artist but I have yet to have someone be so succinct about their views on life… quite frankly, knowing what I already knew of Chris, his responses are right on target! Thanks!
Nathan