by Nathan Stout (of AccordingToWhim.com)
Welcome to my 2nd review of Winstar World Casino. I did a review back in 2010. I thought enough has changed to give the largest casino in the world a new look.
Note: I was not paid or given anything for this review. However, if Winstar would like to show me some love, my player card number is 000512610. 🙂
Overview

Winstar World Casino and Resort (note the addition of the word Resort) is located on I35 ('Adventure Road") Exit 1 in Thackerville Oklahoma. It boasts over 600,000 square feet of casino floor and 2 hotels with nearly 2000 rooms. There is an additional 'Inn' at Winstar outside (like a quarter mile away as well). In the middle(ish) of casino there is an venue were they have concerts and events.
Player's Club
Winstar has their player's club like any other casino and that is how I make my decisions on when to visit. By being in the player's club I (and my wife) get regular (and by regular… I mean regular) mailings from the casino for bonus play (free playing money), free night stays at their hotels, and free or discounted food. Once a month we get a mailer that has a little bit of all of this and if we decided to stay the night I have to call the very day the mailer shows up in the mail box since the free rooms go kinda fast. There is a $10 resort fee you have to pay tho.
Hotels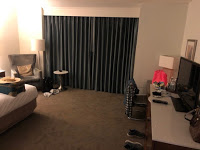 several years ago I heard that the Chickasaw Nation (who owns the casino) made it a bylaw to reinvest x amount back into the casino (the casino was MUCH smaller 15 years ago). Since then it has grown and grown. The first and biggest expansion was adding three times as much casino floor. Then came the first hotel tower. Several years later came the second hotel tower and pool area. With the new pool area I began to see ALOT more children at the casino. Ugh. Anyway, it seems to be the thing to do. Get a free room and take the kids to the pool. The hotels are very nice and are well kept. They are solidly made (no wood construction here, so no sounds of people walking the halls or up above you). The only gripe I had was that the beds are pretty hard. There is a 32″ TV and a mini fridge in the room as well. There are also 200 RV spots there too.
Dining
The casino and hotel is loaded with dining options:
Vino's Italian Kitchen
Gran Via Buffet
Legends Bar & Grill
Toby Keith's I Love This Bar & Grill
Chips 'N Ales
NYC Burgers & Dogs
Khan's Fire Mongolian Grill
Matadors Pizzeria
NYC Burgers and Dogs
El Fenix
Kirby's Strakhouse
Terrace View Café (in the Hotel)
Mickey Mantle's (in the Hotel)
Dairy Queen / Orange Julius (treats only, no food)
IHOP express
Panda Express
Le Paris Bakery
Red River Grill
Winning Picks Coffee Bar
Personally, Chips 'N Ales is our favorite. Matadors Pizzeria is also great. We eat at Gran Via Buffet often because we get complimentary meals from our mailers and the food is fine and there is lots of it but it is not fine dining. We like to get an Orange Julius from the Dairy Queen as well. We have eaten at the Terrance View Cafe' and that is good too.
I'm a bit of a cooler when it comes to gambling. My luck just sucks most of the time. So a big part of coming to Winstar is eating, so the food is a fun and big part of my visit.
Event Center
I don't have a whole lot to say on this. I have been to two concerts here. Sting and Duran Duran. They were both great shows (although Sting had a bit of an audio foul up and I can tell you; booze and angry fans don't mix). It is a large space that is customizable (they just put out chairs and moveable bleachers) so that they can do different things there (like bull riding)!
Casino
So here we are at the world's largest casino… 7,400 machines!!! Tons of tables games now too. During my last review I mentioned that there were some table games but now the place is packed with tables. Every game imaginable too. They have automate/live Roulette, where you sit at a machine and make your bets and a real person puts the ball on a real table. They had live/automated black jack but I think there was not enough interest so it vanished after a few months.
The games have evolved over the years. It used to be all 'reels' for slots, now half or more are LED screens. Real big fancy ones too. Custom ones several feet tall with high def sounds and lights. There are many that have 3D too. Some also integrate real 'reel' wheels with semi-translucent screens. The technology is amazing… the themes… not so much.
The gaming industry is mysterious. Not really sure who comes up with the themes of these games but imagination is lacking. There are tons of 'themed slots from movies and TV shows and those are OK, but the generic ones can be somewhat lame. Gimmie a chance to design some, I think I'd be great. Here are some of the slots I have liked playing over the years:
Hot Hot Reels of Dublin (the bonus free spins were fun)
Yahtzee
Star Wars (kinda fun, mainly enjoyed the visuals)
Goldfish (the bonus rounds were fun)
Spin Ups (a kinda pin up girl, pop the balloons covering them theme)
Everything else has been just so so. Haunted House was OK and I give it that simply because I love the haunted house theme. Winning money is of course the name of the game but since you know you will probably loose it all, having fun with fun bonus features is what you look out for.
There are many different table and automated table games there nowadays. Some of what they have are:
Roulette (the newest addition)
Automated (video) roulette
Automated craps
Craps
All manner of Poker
Black Jack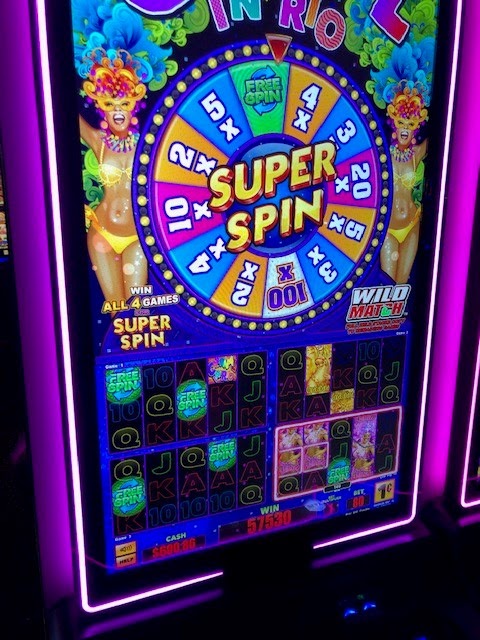 A majority of the machines are 'penny slots' which simply means the minimum amount you can play is one cent. Who in their right mind plays one cent? Well, me after I spent all my money and there is 5 cents left on my balance. Most people will play the smaller minimum so you can score a win using multiple lines and that is anywhere from 35 cents to 80 cents. Remember, the more you spend, the bigger the payout it! I try to go middle of the road. If I am doing well, I will bump up to the next level of payout or if I am doing badly, I will go down to a lower level. I like doing around 80 cents a 'pull' (really a push now-a-days).
As I said in my older post I feel Winstar's machines are a bit tight. Well, I can't verify that statement. I think it is just my luck. I certainly hear a LOT of people winning… just not me. I can drop $100 (let's say 60 plays) and tend to win at only about 10-12 of those plays). When I do win, it is typically below what I spent on the play. I think I have that kind of luck. On the other hand my wife goes in there (not really all that interested in playing) and will hit $600 after spending $1.80 in play (I kid you not).
I also enjoy the video poker games. I usually play Jacks or Better at twenty five cents a bet with 5 bets per play. I read a book years ago on playing video poker and the book said that is the best bet (betting the max of 5 bets per play). I have come to like the multi-hand poker too. I had a co worker who was a big roller and that is ALL he played. Winstar has upgraded a good portion of their bar-installed video poker machines with all these different play methods and even slot features too.
The Toll
The last time I went (a couple of days ago) I dropped $140 total at various slots and video poker. I spent it all and I think the biggest win I had was at video poker and it was around $12. I hit a couple of times on slots at around $6 each time. See what I mean…. my luck… yuk.
As a fun and quick side-read, back in 2010 my friend Chris and I went and played Blackjack and had a 'fun' dealer. We wrote a blog post about it. Enjoy the read.
The Conclusion
Is it worth going to? Yes. Just keep you money-making expectations in check. There's lots to do there, lots to see, and YOU WILL WALK FOREVER. Sound like a great health thing but the smoke you inhale will negate the walking benefits. They put a lot into the filtration system but it still makes your clothes stink and your eyes burn. Get on their mailing lists and you can get some freebie play which is a good thing too.
Thanks for Reading
Thanks for stopping by. check out all the other random blogs Chris McGinty and myself write and visit our website at According To Whim.com