I'm going to make a confession before I get started with this. I'm not actually sure if there are enough music videos by British music acts which contain shopping carts to actually do a part two, but I'm going to find out. Oh yes, I will find out.
Tracey Ullman – They Don't Know
I'm going to go chronologically with the three that I know starting with a British Jane of all Entertainment Trades who is perhaps underrated for her overall influence on pop culture, even if you ignore the fact that her show was the first to feature "The Simpsons." I'm just glad that I can legitimately say that not only was I enamored with this song in my youth, but I also watched "The Tracy Ullman Show" in its original run. I was however too busy delivering pizza during the 90s to watch "Tracey Takes On…"
Oddly, I don't think I was familiar enough with The Beatles as people when this came out to realize that Paul McCartney is in the video, even though I would soon become very familiar with him because of songs like "Say, Say, Say" and "Spies Like Us." Video aside though, I think "They Don't Know" is just one of those songs that could be timeless. There's been sort of another revival of this 50s and 60s vibe with newer artists like Meghan Trainor and that woman who I thought was Meghan Trainor who did that "Xs and Os" song. I was like, "I have to admit that I actually like this Meghan Trainor song," and then it wasn't her. I think it was Paul McCartney.
Radiohead – Fake Plastic Trees
The single for this song was released on May 15, 1995. I'll explain why I bring that up in a moment. The song was recorded in 1994 though, so it made it easier to know to make it the second song on my list. I discussed in another blog post largely devoted to 90s songs that there are bands that if the first song I heard from them was the only one I heard that I wouldn't be all that impressed. Radiohead is possibly my favourite band that fits that description. If all I'd ever heard was "Creep," I might actually not side with the musical hipsters who swear by "Ok Computer."
For me though, I'm more into "The Bends" and "Amnesiac." Part of my love of "The Bends" isn't even because of the album itself, but because of the "My Iron Lung" EP. I think "The Trickster" is my favourite Radiohead song, and "Permanent Daylight" is somewhere in my Top 10 Radiohead songs. "The Bends" also includes the only Radiohead song that I know that Miguel (mentioned in that other blog post I mentioned last paragraph) truly likes, which is "Just."
But we're here to discuss "Fake Plastic Trees." I remember the first time I saw this video was in Miguel's dorm room where his college roommate and bestest friend in the whole world would often watch MTV and talk about what sucked on it. I don't remember what either of them thought of "Fake Plastic Trees," but I remember saying something to the effect of, "Huh. I actually like Radiohead." To be fair, I'd warmed to "Creep" by then, but this song was exactly the kind of thing I was into back then, as was the next song on our list.
Pulp – Common People
I actually brought this song up in a video Nathan and I did recently, and then referenced that part of the video in this blog. This video also holds the distinction of having been seen by me for the first time in Miguel's dorm room. Given that this single was released on May 22, 1995, it's not unreasonable for me to wonder if it may have even been on the same night I first saw "Fake Plastic Trees." I doubt it. I went to visit Miguel enough back then that… I wonder if any Cibo Mato videos have shopping carts, or if they're even British. Who knows? Um, what was I… oh right. I went to visit Miguel enough back then that I could have seen these videos on drastically separate nights.
I think it's a vague possibility that Nathan might like Pulp. When I do the next in the installment of "Songs Nathan Might Like" (see #1 here and #2 here) I'll probably post "Mile End" to see what he thinks. I haven't listened to much Pulp in my life. It's one of those oversights that happens because there's just so much music out there, but another song I like quite a bit is "Disco 2000." It has a Laundromat in the video. Maybe that's a good one for another super specific theme post. Camper Van Beetoven. Pulp. Some other band, I'm sure.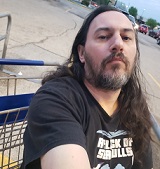 Chris McGinty is a blogger who used to get pushed around in a shopping cart by his friend Dex. We were super into hot pink for some reason. A reason that had something to do with Debbie Gibson, but that's a tale for another time. The origin of me wanting to start a bouncy ball collection had to do with a hot pink bouncy ball that we managed to get out of one of those machines that used to be in restaurants. Cibo Matto was a New York based band, by the way. You know, for a [blogger], he had an awful lot of information, don't ya think?