by Chris McGinty
Ok, I know that you're looking at me suspiciously because you have a suspicion that it's suspicious the way that I suspiciously named this blog post… I don't think that actually made sense.
Foster's Home for Imaginary Friends – Suspicious
So while today is the 25th of May, the actual anniversary of Star Wars as opposed to the May the Fourth B.S. (S standing for suspicious), the name of the band is also The Twenty Fifth of May. Let's get you started with a taste of what they sound like, and then I'll tell you the very little that I actually know about them.
The Twenty Fifth of May – Go Wild
In around the mid-90s, I started listening to the local Fort Worth college station, KTCU. Somewhere along the way, I heard a song by The Twenty Fifth of May and I liked whatever I heard well enough to note the name. That's everything I know. Glad I could help.
Listening to them to prepare for this blog post, the only song that sounded familiar was "Shelter," so if I had to guess, I would say this is the song I heard.
The Twenty Fifth of May – Shelter
Also, sometime in the mid-90s, there were these stamps for sale that were Lennon and Marx – but not that Lennon and Marx. It was John Lennon and Groucho Marx. I remember that Miguel and I found these amusing, because it was a good play on words with names, so like a play on names.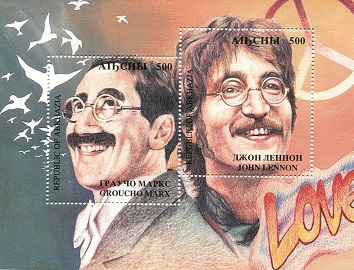 Well, I found out that the album by The Twenty Fifth of May was called "Lenin and McCarthy," so I had to tell Miguel about it, and that's when Miguel explained to me the meaning behind the name The Twenty Fifth of May, which as I established earlier is a reference to the release date of Star Wars. We're really presuming this, since there is hardly any information about The Twenty Fifth of May, but I did find someone else's blog post about them and they tell a different story involving the Tory. Go read that if you want to know the actual origin of their name, because it's a bit more complicated than Star Wars.
The Twenty Fifth of May – Fuck the Right to Vote
Sadly, I really believe that I found a copy of this album once, and I can't imagine not buying it. The problem is that if I did buy it, I never listened to it and I don't know where it is. This doesn't mean I didn't buy it. I had an odd habit in the mid-90s of buying a lot of music secondhand and cheap. If I was ever tired of everything I'd been listening to, I had a backlog of albums to listen to. I still have a backlog of albums to listen to. It may be among my backlog somewhere.
Anyway, there are some more songs from The Twenty Fifth of May on YouTube if you're interested. I didn't really remember them sounding so much like Jesus Jones, EMF, Pop Will Eat Itself, and The Soup Dragons, but that's apparently what they sound like. Maybe conceptually, they're a bit more like Midnight Oil or Chumbawamba where their politics was a driving force behind their music, but it was still very listenable.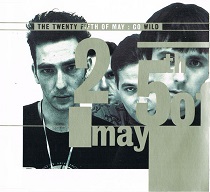 Chris McGinty (not pictured here) is a blogger who will likely write another blog post about The Twenty Fifth of May in approximately one year, if he remembers to do so. Never underestimate the power of the forgetful side of Chris's brain.